Gloucestershire flooding: Rescues as River Severn rises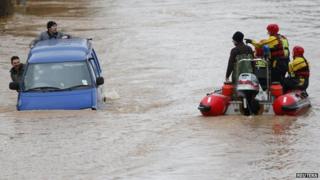 A number of people have been rescued as rising water from the River Severn continues to affect Gloucester.
The Environment Agency said the river would be at its highest level since the mass flooding of 2007, when much of the county was under water.
In Sandhurst a family cut off by flood water was rescued by boat and a hovercraft is being launched to offer further assistance nearby.
There is also concern for 60 horses on flooded land near the city centre.
'Stuck in house'
The Prime Minister David Cameron was in Quedgeley to visit the emergency Tri Service centre.
Speaking after Mr Cameron's visit, Gloucestershire Chief Constable Mick Matthews said the prime minister was made aware of efforts being made to prevent the floods reaching 2007 proportions.
The River Severn is expected to peak in Gloucester later, 0.5m (1.7ft) lower than in 2007.
In Tewkesbury, it is expected to peak on Wednesday morning at 4.6m (15ft) which is almost 1m lower than five years ago.
The Environment Agency has a number of flood warnings and alerts in place across the county and said 33 roads remained closed or impassable due to flooding.
Tina Bailey said her home in Sandhurst had been surrounded by flood water but it had not come into the house. The mother-of-two said she had been "stuck in the house" since Monday and needed to get out for her children's sake.
"We managed to walk through some of the floods up the lane but it wasn't passable by car," she said.
"Overnight, obviously the water levels were rising. The house is fine because it's built on a tump [small rounded hill] so we're lucky there.
"If it was just us we probably would have just stuck it out and waited for the waters to recede but [it's] because of the children."
The fire and rescue service is also to launch a hovercraft from St Oswalds in Gloucester to help assist with further rescues in the Sandhurst area.
Elsewhere the RSPCA has been called out to help 60 horses on flooded farmland near Gloucester city centre, and much of Maisemore was also under water.
Lee Hopgood, a chief inspector, said: "Some people have moved on to the land who had limited local knowledge and they have been caught out by these floods, so we are working with them to provide water and feed to the horses over the next few days."
He said a plan to remove them had been worked out but he was hoping the interim measures would be sufficient.
Although the Met Office has forecast more rain for Tuesday, it will be showers rather than the heavy rain that has fallen in the past week.
The weather for the rest of the week is set to be dry.