Prince Charles and Camilla switch on Tetbury lights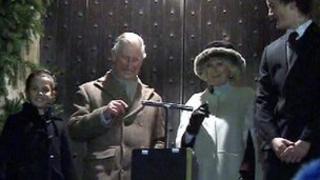 The Prince of Wales and Duchess of Cornwall have switched on the Christmas lights of a town near their home in Gloucestershire.
The royal couple's Highgrove estate is less than two miles from Tetbury.
They were joined on the Market Hall steps by two children who had won a competition to help turn on the lights.
Prince Charles said it was his way of boosting trade in the area after the Badminton Horse Trials event was cancelled earlier this year.
The event was cancelled in May because of a waterlogged ground.
He said turning the lights on was his way of trying to help the economy of the town.
The event saw a torchlight procession led by Father Christmas accompanied by firefighters. There was also a nativity play and carol singing.
The royal couple also hosted a reception for local business owners at Prince Charles's Highgrove shop.