Forest of Dean Wilderness Centre site to be sold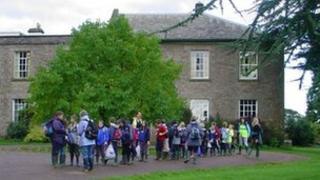 A former environmental education centre site in the Forest of Dean is to be sold on the open market.
The Wilderness Centre, at Mitcheldean, was closed by Gloucestershire County Council in 2011 because of budget cuts.
A council spokesman said it had decided to sell the centre's Plump Hill site with the "full support" of campaigners.
Friends of the Wilderness Centre said it had agreed to the sale of the building as part of negotiations with the council to purchase the centre.
Andrew McCartney, from the county council, said: "The Plump Hill property is a separate building which was previously used by the centre but has not been operational for more than 12 months.
"It does not impact upon the future viability of the proposals for the Wilderness Centre, which are still under discussion and we look forward to receiving The Friends' offer."
'Ensure viability'
Friends of the Wilderness wants to refurbish the centre and run courses and residential programmes for children and community groups.
A spokesman for the organisation said it was in the "final stages of negotiations" with the council to take over the centre and run it as a not-for-profit social enterprise.
"In order that we can purchase the Wilderness Centre and ensure the viability of the Wilderness Project, we have agreed with the county council that they can sell the Plump Hill Centre on the open market," he said.
"The Wilderness Project will base the day visit provision at the Wilderness Centre and we will continue using the Horsepool Bottom Nature Reserve for environmental education courses for schools and community groups."
Last year, the campaign group Protect the Wilderness occupied the site for almost four months in an effort to keep the centre open to the public.