Work to save 200-year-old tree in Cheltenham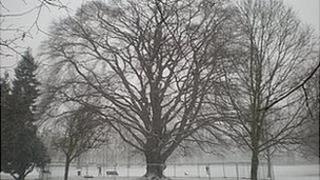 Work is being carried to make safe a 200-year-old tree in a public garden in Cheltenham.
The copper beech tree in Montpellier Gardens has been attacked by a fungus, causing it to decay.
The outer branches of the 23m (75ft) tall tree are being removed and a fence erected around it to make it safer.
Chris Chevasse, from Cheltenham Borough Council, said: "We're trying to get as much life out of it as we can by reducing the size of it."
Montpellier Gardens hosts events such as the Cheltenham Literature Festival as well as circuses and funfairs.