Cheltenham bin backlog to be cleared after snow delays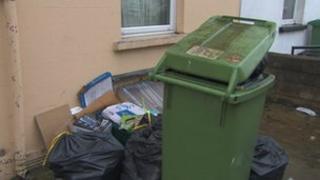 An inquiry is to be held after complaints that household rubbish had not been collected in Cheltenham as a result of the snow.
The council pledged to collect all black bags on pavements whether they are due for collection or not.
Councillor Roger Whyborn, responsible for sustainability, said: "We are looking at what lessons we can learn from the snow incident.
"It will take a couple of weeks to get the backlog cleared."
Cheltenham's Lib Dem MP, Martin Horwood, has welcomed the review ordered by Mr Whyborn and has called on senior managers at Ubico - the company jointly owned by Cheltenham Borough Council and Cotswold District Council - to admit they made mistakes.
'Just unacceptable'
"I'm told Ubico have said to councillors that these were operational decisions," he said.
"I think they were just bad decisions.
"Councillors should read the riot act to Ubico's senior management and make sure this kind of thing never happens again.
"Managers themselves should accept they've got it wrong this time, apologise and - more importantly - sort it out."
The council announced last Wednesday it was suspending collections until the end of the week because of the snow.
"I understand why they had to be cautious," said Mr Horwood.
"No-one wants their staff injured trying to pull heavy wheelie bins over icy roads and pavements.
"But there isn't a snowflake in sight anymore and with rubbish and recycling collections missed that means some people will have waited four weeks for one or the other to be collected and that's just unacceptable. "
'Public safety'
In response to Mr Horwood's criticisms Beth Boughton, waste and recycling manager for Ubico Ltd, said on Wednesday: ''Ubico have first-hand experience of how dangerous it can be when a 26-tonne vehicle goes out of control on an icy surface.
"If the vehicle loses traction it may, at best, block off a road or junction.
"At worst, particularly on the slightest of inclines, it may become unstoppable and poses a very serious threat to public safety and property.
"There is also the health and welfare of Ubico staff to consider, especially since many footpaths across the district are so treacherous at the moment and make it difficult to carry heavy boxes full of glass and other sharp objects.''