Historical blast furnace restoration planned in Gloucestershire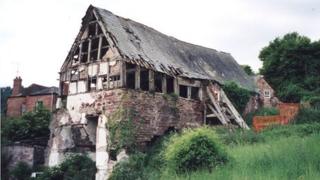 One of England's finest surviving charcoal blast furnaces is to be restored, its new owner has said.
Gunns Mill, in the Forest of Dean, Gloucestershire, dates back to the early 1600s but has decayed massively over recent decades.
William Parker bought the "at risk" mill in 1993 to stop it being converted into a two-bedroom house and has now donated it to a preservation trust.
English Heritage believes the mill is of national and European significance.
Gunns Mill furnace was originally built in 1625 by local industrialist Sir John Wintour and expanded 60 years later.
The building, which is located in the rural Flaxley valley, was used to make iron until around 1735 when it was turned into a paper mill.
'Poor condition'
English Heritage (EH) has had the property on its "at risk" register for many years and said it was pleased that a long-term conservation solution was "in sight".
Hugh Beamish, assistant inspector of ancient monuments for EH in the South West said: "Gunns Mill is still in poor condition and has been surrounded by scaffolding for the past decade to support and protect it from the elements.
"We look forward to working with the Trust to help ensure the future of this amazing piece of the Forest of Dean's industrial past."
Since purchasing the site, a number of historical studies have been carried out on the property whilst Mr Parker decided what to do with it.
Now he has donated it to the newly-formed Forest of Dean Buildings Preservation Trust (FoDBPT), calling it the "ideal solution".
He said: "The trustees have a broad range of interests and contacts that can tap into the resources available locally, regionally and nationally to preserve and promote the Forest's amazing built heritage, of which Gunns Mill is perhaps the best example."
FoDBPT was formed to preserve the heritage of the Forest of Dean district and has said it will take time to draw up plans for Gunns Mill's restoration.
The trust now owns two historic buildings, the other being Whitecliff Furnace near Coleford which was last year subject to significant repairs totalling £165,000.