PCC proposes 2% policing tax increase for Gloucestershire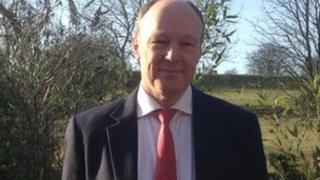 Gloucestershire's crime commissioner wants to increase the policing element of council tax by 2% in his first budget.
Martin Surl said it would bring in an extra £900,000, helping to cover a reduction in government funding.
He said it would add an extra £3.99 to the annual bill for a band D property - or 8p a week extra.
Mr Surl said he would ask the county's PCC panel to agree the rise when it meets on 6 February.
The police precept is part of the general council tax bill, and is the amount council taxpayers pay for police services.
'Improve peace'
"Having consulted with partners, businesses and the wider public, albeit in the limited time at my disposal, there was no overwhelming support or objection to either a freeze or a council tax rise," Mr Surl added.
"If we introduce a freeze, we won't be able to absorb the cuts the government expects us to make in the future."
Mr Surl said that the budget package was designed to "improve peace and good order" in Gloucestershire.
Mark Harper, Conservative MP for the Forest of Dean, has previously said he was "disappointed" that Mr Surl was "already thinking about breaking his manifesto pledge to not raise local taxes".
It is the job of the PCC to decide Gloucestershire Constabulary's priorities and allocate how and where the money is spent.
The police and crime budget is almost £103m.