Cheltenham's accident and emergency department is cut back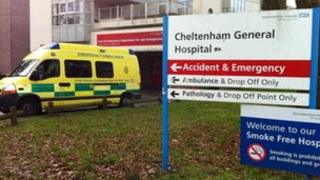 Cheltenham's accident and emergency department is to be cut back, Gloucestershire Hospitals NHS Foundation Trust has said.
The hospital trust wants all out-of-hours emergency "blue light" cases to be taken to the Gloucestershire Royal Hospital in Gloucester.
The trust said the step has been taken because there were not enough trained doctors to staff both sites full-time.
A 12-week public consultation on the decision is under way.
'Right balance'
Experienced nurse practitioners will continue to deal with "walk-in" patients, but anyone more seriously ill or in an ambulance will go straight to Gloucestershire Royal Hospital on Great Western Road.
NHS Gloucestershire has estimated that 16 patients, on average, with critical illness or injury would be diverted from Cheltenham to Gloucester at night time.
Emergency medicine consultant, Dr Tom Llewellyn said the proposal "strikes the right balance" between providing specialist clinical emergency care and maintaining local access to services whenever possible.
"We believe that this proposal, which relates to emergency care at night time, will help us to provide safe, timely services to the people of Gloucestershire, 24 hours a day, seven days a week," he said
The emergency departments at Gloucestershire Royal and Cheltenham General Hospitals currently treat around 120,000 patients every year.
'Sustainable model'
The proposals also include moving all elective (non-urgent) paediatric day case surgery, excluding ophthalmology, and medical investigations from Cheltenham to Gloucester.
The majority of services for children in the county are already based at Gloucester's children's centre.
"There is a shortage of specialist doctors and nurses to care for children and bringing together the day case services will ensure we have a sustainable model for the future," said consultant paediatrician, Dr Miles Wagstaff.
A Great Western Ambulance Service spokesman said they will look to feed back "any likely impact" on ambulance services.
The deadline for responses 3 May.