Stroud toads helped to cross roads in a bid to boost numbers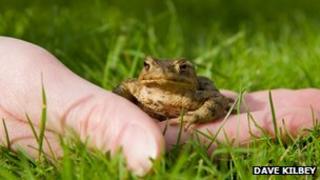 Nature lovers are trying save the dwindling toad population in a group of Gloucestershire valleys.
A fence has been put up at Pitchcombe in Stroud's Five Valleys, where the A46 meets the A4173, to help protect the creatures from passing traffic.
Every night toad patrollers will check the route, count the toads and then carry them across the road to safety.
Ellen Winter from the Gloucestershire Wildlife Trust said the fall in numbers was a huge problem.
"I know of a couple of toad populations in the Stroud area that are now extinct largely because of traffic," she added.
"Pitchcombe is well known because it crosses the A46 and it's well patrolled [with] quite a few hundred toads.
"I think it's 200 or 300 hundred toads that were rescued last year."
Breeding ponds
Toads are very conservative about where they breed and a decline in numbers is accelerated when roads are built across their migration routes.
Ms Winter said approximately 20 tonnes of toads are killed in the UK each year trying to reach breeding waters.
The migration period is usually in February, although it is weather dependent so can happen any time from now until March.
It is thought the decline in toad numbers is also being affected by the loss of breeding ponds. It is very unusual to find them in garden ponds.
The number of countryside farmland ponds has declined by 90% in the last 50 years.
The Five Valleys are a group of valleys in Gloucestershire which converge on the town of Stroud at the western edge of the Cotswolds.