Museum plan after Gloucester Prison closure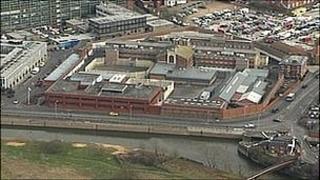 A crime museum owner wants to reopen Gloucester Prison as a tourist attraction when it closes in March.
Andy Jones, owner of Littledean Jail in the Forest of Dean, wants to preserve the 230-year-old penal institution as a heritage site.
In January, the Ministry of Justice announced the prison would be closing as it was "old and uneconomic".
Mr Jones said it was an "important part of the county's heritage" and it would be a "shame to see it redeveloped".
The Category B adult jail, part of which is Grade II listed, was designed by prison architect William Blackburn.
Opened as a county gaol in 1791 and substantially rebuilt in 1840, it was the venue for about 120 executions.
'Gallows in storage'
Mr Jones said: "It would be a very interesting prison to investigate.
"I know the gallows are still in storage in one of the prison stores in Rugby and there's a lot of speculation about a number of prisoners' bodies buried there."
Among the prison's most notable inmates were mass murderer Fred West, former London gangland enforcer "Mad" Frankie Fraser and Herbert Armstrong, "the Hay poisoner", who was executed in 1921.
Mr Jones said: "Mad Frankie Fraser was in about 40 different prisons but he told me, many years ago, that he had very fond memories of Gloucester Prison.
"It's a typical Victorian prison but its under the jurisdiction of the Home Office and they're reviewing their options.
"But I would like to get my hands on it and tell the story of what life was like in a Victorian prison, when prisons were prisons."
Gloucester Prison currently houses about 320 inmates and is one of seven in England due to close at the end of March.
A spokeswoman for the Ministry of Justice said it had no plans "at this early stage" regarding the future of the site.