'Rat run' fears over roundabout plan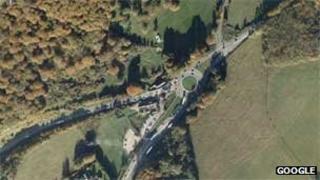 Proposals to change the road layout at one of the country's notorious pinch points will create "misery" for nearby villagers, parish councillors say.
The Highways Agency wants to stop queuing traffic near the Air Balloon roundabout in Gloucestershire.
But people in nearby Shurdington and Brockworth fear the plans will create "rat runs."
Agency managers said the public will be consulted on any changes.
The Air Balloon roundabout sits on a single carriageway section of the A417 between Swindon and Gloucester - a route which links the M4 and M5.
'Ill-conceived'
The latest proposals would see traffic heading from Swindon forced to drive down Crickley Hill and not given the option to drive around the roundabout.
Jo Sobey, chairman of Shurdington parish council, said the proposals are "ill-conceived".
"It's hard to say if it will improve things at the roundabout but all the villages between the A417 to Cirencester and Seven Springs will be used as rat runs.
"That means increased traffic along country lanes, misery for local people and even bigger queues at trouble spots."
A petition set up against the junction changes currently has 70 signatures.
The Highways Agency says it is still assessing the potential risks and impacts of the trial and preparing a bid for funding.
A spokesperson for the agency said: "As part of the assessment we are waiting for advice from Gloucestershire County Council on the most appropriate way to engage with the public and local residents on the proposal.
"Plans for the trial have generated considerable public interest and it is essential we consider the views raised by local residents, road users and local councillors before proceeding further. "
If successful the scheme will happen in the next financial year and will last for 18 months.