Connors family forced labour sentences appealed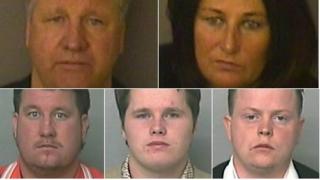 The prosecution team in the case of a traveller family jailed for forced labour is to appeal against what it has called "unduly lenient" sentences.
William Connors, 52, Brida (Mary) Connors, 48, sons John, 29, and James, 20, and son-in-law Miles Connors, 24, were found guilty in December.
Their crimes were committed in Gloucestershire, Leicestershire and Nottinghamshire.
An appeal in respect of all defendants except Brida is listed for Thursday.
Det Ch Insp David Sellwood, of Gloucestershire Police, said: "The Op Tundra prosecution team have made a referral to the Attorney General that the sentences in respect of the defendants in the case were unduly lenient.
"Subsequently the Attorney General agreed that the sentences in respect of William, John, James and Miles Connors should be appealed."
'Humiliating tasks'
The hearing will take place before the Lord Chief Justice of England and Wales at the Royal Courts of Justice.
The original trial at Bristol Crown Court heard how the family had their own private workforce who they beat and forced to work for as little as £5 a day.
The court heard their victims were homeless drifters or addicts.
William Connors was jailed for six-and-a-half years and his wife Brida was sentenced to two years and three months.
Their son John was jailed for four years, while their other son James was sentenced to three years in a young offender institution. Their son-in-law Miles was sentenced to three years.
The Connors family enjoyed top-of-the-range cars and expensive holidays at the expense of their victims who lived in squalid caravans on traveller sites as they moved around the country working on their paving and patio businesses.
Some of the victims were ordered to perform humiliating tasks, such as emptying the buckets used as toilets by their bosses.
Many were beaten, hit with broom handles, belts, a rake and shovel, and punched and kicked by the family.
The family was caught after being placed under covert surveillance by police following the discovery of the body of worker Christopher Nicholls, 40, in 2008.