Hartpury College credits Olympics with application rise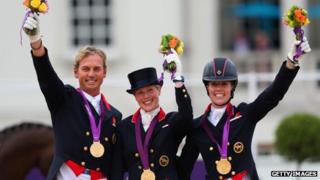 A specialist college in Gloucestershire is crediting the Olympics for a "significant" rise in applications.
Hartpury College said its equine degree applications were up by 10% and its sports coaching and injury management degrees were up by 30%.
A number of college staff were involved behind the scenes at the 2012 London Games, which is claimed to be having a knock-on effect for the college.
Vice-principal Luke Rake said: "It is certainly having a knock-on effect."
Also, gold medallist Carl Hester is a dressage coach at the college, working with the elite team which is part of the Hartpury Equine Academy.
'Remarkable numbers'
Overall, degree applications are up by some 20%, from 1,600 to 2,000.
Mr Rake said: "We can see that Olympic legacy now, where staff were selectors, or games makers, or for example involved in the course building in the equestrianism."
He added: "It's not just equestrianism, it's across the board. Both at degree levels, where our sports coaching and sports conditioning and injury management degrees are up significantly.
"But also at the lower levels we're seeing students now applying in remarkable numbers for A-Levels where they can combine elite sports with their studies."
Rachel Kent, from Manchester, is currently studying for a masters in sports management and said there was "a feeling of a legacy" as well as opportunities within the sports industries.
She said: "[The college is] not just qualifying the obvious people that you would see in front of the camera, but Hartpury qualifies the event organisers, marketing, administration, all those types of people that need valid knowledge of the industry but also need the theory and the qualifications behind them to back it up."