Gloucestershire auction house 'deliberately targeted' in raid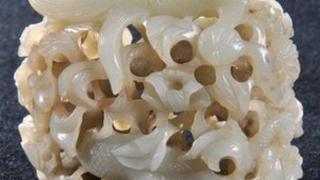 Rare jade sculptures stolen in a raid on a Gloucestershire auction house were deliberately targeted, say the owners.
The items were taken from Dominic Winter Auctioneers in South Cerney on Wednesday, where they were to be sold the next day.
About 30 of the tiny sculptures, which are insured for £30,000, were taken along with several items of silver.
Auctioneer Chris Albury believes the sculptures were taken due to a resurgence of interest in jade.
He said: "Unfortunately we've heard quite a few stores from police and other auctioneers around the country over the last year or more.
"Jade does seem to be the object of attraction."
The intricate antique sculptures were carved out of jade in China, and measure about the size of a hand.
Gloucestershire Police have appealed for anyone with information relating to the theft to contact them.
The force said it believed the raid was a one-off and said there has been no spate of other auction houses being targeted in a similar way.