Plans scrapped for traffic bottleneck in Gloucestershire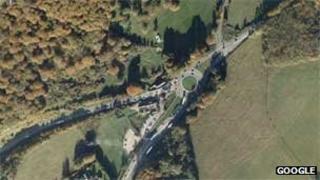 New road layout plans for a notorious bottleneck in Gloucestershire have been dropped by the Highways Agency.
Gloucestershire County Council had initially agreed to help fund an 18-month trial by the agency at the Air Balloon roundabout on the A417.
It has since withdrawn its support, claiming the Highways Agency had not "engaged well with residents".
The agency said it had been waiting for council advice "on the most appropriate way to engage with the public".
It said because the council was no longer supporting the trial, it was not appropriate to progress the proposal further.
The Air Balloon roundabout sits on a single carriageway section of the A417 between Swindon and Gloucester - a route which links the M4 and M5.
Under the trial scheme, traffic heading from Cirencester would only be able to turn left towards Gloucester.
'Credible solution'
But the council has called for the scheme to be scrapped as the agreement to part-fund the project was on condition the Highways Agency "consulted local residents prior to a trial".
Councillor Mark Hawthorne said: "There doesn't seem to me to be any likelihood of their proposal achieving the local support the council sees as crucial to the success of any trial.
"The A417 remains one of the biggest transport bottlenecks in Gloucestershire and we'll keep lobbying to persuade the Highways Agency to come up with a credible long-term solution."
A Highways Agency spokeswoman said it had been working in partnership with the council since March 2012 on a "preliminary assessment of the scheme".
"As part of the assessment we have been waiting for advice from the council on the most appropriate way to engage with the public and local residents on the proposal," she said.
"As Gloucestershire County Council has now announced it no longer wishes to support the trial we do not think it is appropriate to progress the proposal further.
"We will however continue to work with the council on finding alternative solutions to the congestion issues at Air Balloon Roundabout."