'Too bright' Cirencester playground to open without changes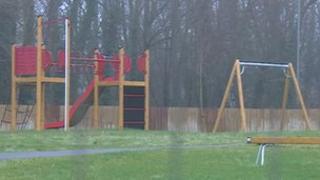 Plans to rework a Cotswolds playground after complaints were made about it being "too bright" have been scrapped.
The opening of the playground at Corinium Via, in Cirencester, had been delayed for the work to be carried out.
But a campaign to get the facility open was started with petitions launched by both adults and children in the area.
Residents have now received an email from Redrow, which built the playground, saying it will open before Easter without any changes.
Cotswold District Council said it had been dealing with objections about colour and size raised by some residents whose homes were near or overlooked the play area.
News that the playground will open was announced to a public meeting on Saturday by eight-year-old Ruby Barrio.
Her grandfather, Declan Cunningham, said: "What has most impressed everyone here is the enthusiastic way the children threw themselves into the campaign by going around collecting signatures for the petition."
In the email to residents, senior Redrow executive Gavin Hill said the amended scheme would have cost Redrow and Robert Hitchins Ltd "in excess of £16,000 to implement".
He said it would now be open "prior to the Easter holiday".