Newent Southend Lane travellers' site inquiry ends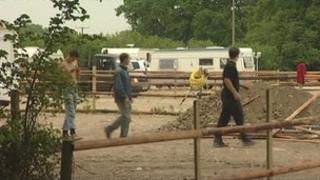 A public inquiry into the future of an unauthorised travellers' site in Gloucestershire has drawn to a close.
The hearing is the latest legal battle to take place since families bought and occupied a meadow on Southend Lane, Newent, in 2009.
Drainage and hard standings were installed at the site but retrospective planning permission was later refused leading to two appeals.
A planning inspector is expected to make a decision within three months.
This second inquiry began in November but was adjourned because of a lack of time.
After an initial planning inquiry in 2010, the families were given two years to stay but that period expired in January last year.
Enforcement notices were then served by Forest of Dean District Council giving the families six months to leave.
However, a second appeal was launched and the families were given a stay of execution pending the results of this latest inquiry.