Gloucester homeless night shelter closes its doors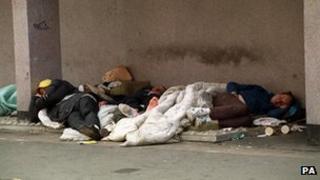 A night shelter for homeless people that has operated in Gloucester for 17 years has shut due to funding cuts.
The doors are now closed on the GEAR Projects' overnight service but the charity remains committed to its health clinic, day centre and outreach work.
Gloucestershire County Council is now funding a service from the charity, P3, which has less beds available in Gloucester but provides care elsewhere.
It says it will be able to offer 31 beds in total across the county.
This will be made up of two new hostels in Gloucester (eight beds) and Cheltenham (six beds) and an additional 17 beds in units around the county.
'Other major roads'
GEAR (Gloucestershire Emergency Accommodation Resource) Projects' Southgate Street residential unit has traditionally offered 21 beds.
The charity had previously received £250,000 per year from the council but that funding, plus a further £50,000, is now going to P3 which has initially been given a three-year contract.
P3 says it aims to go further than just offering short-term shelter by working to understand why a person has become homeless and then supporting them to get their lives back on track
GEAR Projects chief executive Brian Jones said there were now "other major roads to be travelled and explored" at its nearby Vaughan Centre base, also on Southgate Street.
The future will focus on four main areas for the charity; its county-wide outreach service, health clinic, day centre and provision of residential support for drug and alcohol users who wish to change their behaviour.
Figures released by the charity suggest its project workers dealt with 948 different individuals from April 2012 to the end of last month.
The Southgate Street centre has been leased from the Church Society Trust (CST) but that expires next month and GEAR decided against renewing it.
It has not been decided what will happen with the building but the CST said it would probably be used for church activity.