Stroud museum given £250,000 to restore walled garden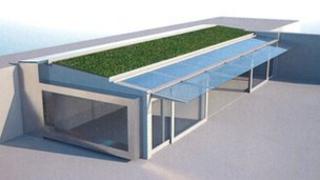 A museum in Gloucestershire has been given a £250,000 grant towards restoring a derelict walled garden.
Stroud's Museum in the Park, a former mansion house, wants to use the money to "bring back to life" its half-acre garden.
The district council said the money was the "largest ever grant" awarded by the Gloucestershire Environmental Trust.
Plans also include the erection of a pavilion, which the museum says it will use as a learning space.
The money will be added to £60,000 already given by Stroud District Council, although further fundraising is needed to reach a £490,000 project target.
The museum is situated in a former wool merchant's Grade II-listed mansion which dates back to the 17th century.
Objects and displays are used within the museum to share the history and heritage of the surrounding district.
Kevin Ward, museum manager, said: "This funding has given all involved a huge boost and will help us attract further external funding and support to see the project to completion, in what will be a major addition to our already extensive offer to the community."