'Too bright' Cirencester playground finally open following row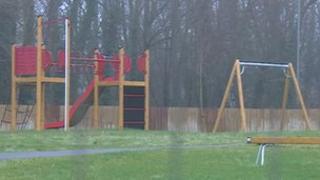 A Cotswolds playground at the centre of a row over its colour and size has finally opened.
The opening of the playground at Corinium Via, in Cirencester, was delayed after people complained about swings and slides being "too bright".
Redrow Homes had planned to adjust the colour and move some of the equipment, but the playground has opened without any work being carried out.
It follows a campaign by families in the area to get the site open.
Parents had lobbied for the park to be built for two years.
Cotswold District Council said it had received a small number of objections about the colour and size, raised by some residents whose homes were near or overlooked the play area, but said the scheme was the developer's responsibility.
Developer Redrow said the council approved the original play area scheme and an amended scheme.
In an email to residents, senior Redrow executive Gavin Hill said the amended scheme would have cost "in excess of £16,000 to implement".
Paul Hodgkinson, Lib Dem councillor for Cotswold District Council said the matter had been an example of "bureaucracy gone mad".