Campaigners seek badger no-cull zone on council land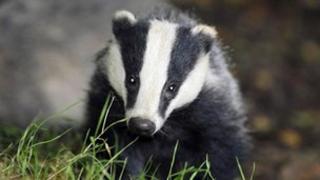 Campaigners against a badger cull are calling on local politicians to sign a pledge to rule out culling on council land.
The government has announced it intends to go ahead with a Gloucestershire cull from 1 June.
Gloucestershire Against Badger Shooting is asking the parties contesting the county council election in May to make council land a no-cull zone.
Labour and the Green Party have said candidates will agree to the pledge.
Liberal Democrat councillor Jeremy Hilton said the 2013 party manifesto already promised to review future farm tenancies to ensure that the culling of badgers would not be permitted on county-owned farms.
Gloucestershire Against Badger Shooting (GABS) has asked each party to sign up to two pledges to take forward if they are elected.
These are the immediate banning of badger culling on any Gloucestershire County Council land which is not tenanted and working to ban badger culling on tenanted council land as tenancies are renewed.
'Pledge for change'
The campaign group is also asking politicians seek more effective alternatives to stop the spread of bovine TB.
GABS spokeswoman Jeanne Berry said: "We know that local people are overwhelmingly against a badger cull in the county and we are asking Gloucestershire people to contact their council candidates to pledge for change.
"The county council elections in May are the first chance for people to have their say on this cull at the ballot box."
Tewkesbury Borough Council and the Forest of Dean District Council have already voted to reject the proposal to cull badgers on council land.
Ministers want to hold a pilot badger cull in Gloucestershire and West Somerset to halt the spread of tuberculosis to cattle.
The RSPCA, which opposes the cull, said it wanted to help fund vaccination.