Gloucester City offers deal to maintain CTFC ground-share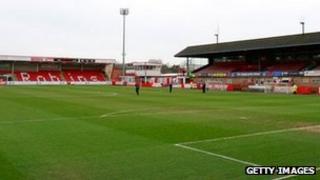 Gloucester City AFC believes a deal has been found to secure its ground-share agreement after a threat of eviction.
Cheltenham Town FC warned debts needed to be settled by the end of March or the Tigers would no longer be welcome at their Whaddon Road stadium.
A full repayment has now been offered to chairman Paul Baker but only on the condition that the ground-share agreement is signed for next season.
A Cheltenham Town spokesman said the clubs were continuing in conversation.
Gloucester City AFC's permanent home was ruined by flooding in July 2007.
'Club relegation'
Colin Peake, who has been working as a consultant to the club, said: "Contrary to figures mentioned as of this weekend gone, the debt due was just under £17,000 and I have offered Paul Baker and his board a resolution to that debt plus, in addition, monies which cover to the end of this season.
"There is, however, one vital condition to the payment, Gloucester City must achieve, in conjunction with this payment, the signing of the ground-share agreement for next season.
"Without the agreement being lodged by 31 March, the only result will be relegation of the club from the Football Conference."
Gloucester City AFC plays in the Blue Square North league and chairman Nigel Hughes said it was struggling to make any money on its midweek home fixtures as only a few hundred supporters were attending the games.