Gloucester Cathedral makes £120,000 budget cuts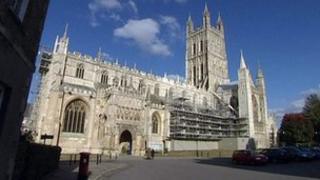 Gloucester Cathedral has cut its annual budget by £120,000, after a fall in donations.
The budget cut has resulted in two compulsory redundancies and four voluntary redundancies being made.
The Very Reverend Stephen Lake said: "Whilst we have more people coming to worship, they've got less money so they're able to give us less money."
But Mr Lake, the Dean of Gloucester, said entry fees would not be brought in for cathedral visitors to raise funds.
He said: "It is a fallacy to think that would solve a problem - that's unproven and the cathedral's chapter principle is that we do not want to charge for entry to Gloucester Cathedral and we will do everything in our power that we do not."
The job cuts were made after a staffing review which also involved restructuring people's roles.
Despite the budget cuts, the cathedral is continuing efforts to raise £8m for a development programme.
"Fundraising and your current account are not mutually exclusive - they are two sides of the same coin and we need to be as fit for purpose as we can be.
"No-one will give you grant money, trust money or donations if you are in the red," added Mr Lake.