Gloucestershire's Lib Dem group pledges to improve roads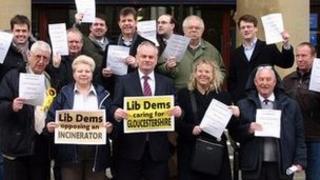 The Liberal Democrat Party in Gloucestershire says improving the county's roads will be a priority if it wins the May elections.
The party's manifesto, released ahead of the county council election, also includes a pledge to oppose the building of a £500m waste incinerator at Javelin Park.
Other areas of focus in the group's Caring for Gloucestershire campaign are money, jobs, people and the environment.
The Conservative-run county council elections will take place on 2 May.
'Protect services'
Councillor Jeremy Hilton, leader of the Lib Dems, which will field candidates in all 53 county seats, said the party planned to make Gloucestershire a "better place to live".
"We believe that more can be done to improve the quality of services provided by Gloucestershire County Council," he said. "Ours is a plan that will help people across the county understand who we are, what we represent and what is important.
"Our manifesto confirms that a Liberal Democrat run-council will not cut corners. A Liberal Democrat run-council will commit to delivering a better future for everyone in Gloucestershire."
The Liberal Democrat's manifesto for Gloucestershire lays out its vision for "a strong economy and a fair society".
In it, the group says it will invest in repairs to roads and footways by releasing £5m worth of surplus funds from the council's reserves to help fix the "enormous number" of potholes on the county's roads.
The group will also support growing businesses to achieve their goals and will also work to establish new businesses in manufacturing, advanced technologies and the green economy.
These areas form three of the manifesto plan's "six to fix", which also includes the opposition of the planned £500m waste incinerator at Javelin Park and creating a new joint fire and ambulance service in the county.
Last month, Gloucestershire County Council agreed its budget for 2013-14, which included £16m in cuts and a freeze on council tax for the third year running.