Gloucestershire Royal Hospital 'caring and holistic'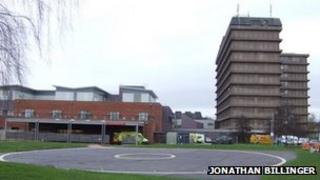 A hospital criticised by a whistleblower earlier this year has been found to be "caring and holistic", according to an inspection report.
The Care Quality Commission (CQC) visited Gloucestershire Royal Hospital for a routine inspection in February.
It said the trust was meeting essential standards of quality and care.
The whistleblower, a senior clinician at Gloucestershire's two hospitals, had claimed in January that they were both "hopelessly mismanaged".
The CQC inspection looked at two standards: respecting and involving people who use services and cooperating with other providers.
The hospital was judged to have met both.
The report said patients told inspectors they felt the hospital was "like a family".
Another patient told them: "It's better than a hotel in here, they can't do enough for you."
'Hard work'
The report said: "Every patient we spoke with gave positive feedback about staff and how they were treated and cared for."
But it did add that while staff were said to be "fantastic", patients commented that there were not enough of them, especially at night.
Director of nursing Maggie Arnold said: "It is really pleasing to see the hard work of our staff reflected in this independent expert assessment of the quality of services that we are providing to the local community."
"We acknowledge that there are always going to be areas where we can improve and our hospitals always seek feedback on the care and standards in our hospitals."
Last month, The Cotswolds MP Geoffrey Clifton-Brown called for an investigation into complaints of poor patient care at Gloucestershire Royal Hospital and Cheltenham General Hospital.
The whistleblower, who wanted to remain anonymous, had made allegations of bullying and mismanagement and claimed one patient had been left to starve.
He criticised the county's NHS Trust, saying his complaints had fallen on deaf ears.
Dr Sean Elyan, the trust's medical director, defended the trust at the time saying its "recorded compliment rate" was "10 times greater than the complaint rate".