Gloucestershire church 'inappropriate' place for village shop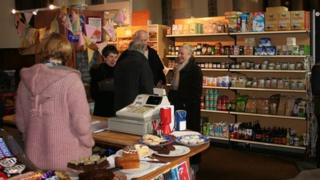 Parish councillors in Gloucestershire have objected to an 18th Century church being used for a village shop.
Chalford Community Stores began trading out of Christ Church last month after failing to find permanent premises.
The Diocese of Gloucester has welcomed the partnership, but the parish council has formally objected, saying it is an "inappropriate" use of the church.
Trading hours each Sunday have been planned to avoid interfering with worship in the church.
The full objection received by Stroud District Council reads: "It is inappropriate for a place of worship to be used as a shop."
Four out of six members of the parish council's planning committee met last week to discuss the shop and voted unanimously to object.
'Sad place'
The community store faced closure after moving out of the Old Post Office because of the building being sold and then failing to find new premises.
The Diocese of Gloucester said it was aware that the parish council had "seen fit" to oppose the move.
A spokesperson said: "The Diocese does not agree with this and is fully behind the proposal to make Chalford Church a permanent location for Chalford Community Stores.
"The benefits for this move have been great for both the store and the church, as the church can now be open to visitors every day and the store can continue to operate, providing a much needed shop for its local community."
Mandy Platt, who is part of the shop's committee, said: "This partnership between the shop and the church is a great initiative and we think it is the first such scheme in Gloucestershire.
"The shop would have had to close if we had not been able to use the church, and Chalford without its community shop would be a sad place."