Javelin Park incinerator: More than 100 people join protest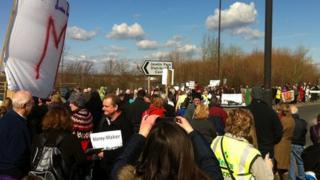 More than 100 people opposed to plans for a waste incinerator in Gloucestershire have gathered at the site where the council wants to put it.
The £500m scheme at Javelin Park near Haresfield is recommended for approval and councillors will vote on whether it can be built on 21 March.
Campaigners picketed the site entrance as councillors made their final visit ahead of next week's planning meeting.
The incinerator will also require a full environmental permit.
'Not listening'
Gloucestershire County Council has already signed a 25-year contract with Urbaser Balfour Beatty to build a waste incinerator on the site near junction 12 of the M5.
The Environment Agency granted the proposed facility a draft permit in February and said it was "minded to grant" a full permit.
About 5,000 people have signed petitions calling for the scheme to be scrapped.
Objections include its size, location, cost, environmental impact and potential health implications.
Campaigner Laura Jerham, from Nailsworth, said: "I'm appalled that the county council isn't listening to the science.
"It isn't listening to the people of Gloucestershire and isn't listening to all the parish councils and the town councils that have opposed the incinerator."
Those in favour of the development say it is needed to deal with the thousands of tonnes of household waste generated in the county each year.
The agenda papers have been published online ahead of the planning meeting next week.