Roman artefact discovered in Sudeley Castle cupboard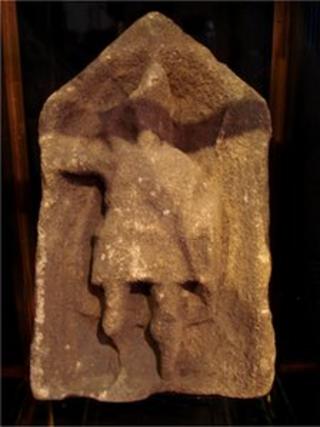 A Roman sculpture of a Cotswold god has been found in a castle cupboard after being missing for over 100 years.
The artefact, dated 150-350AD, was first found during an archaeological dig on the estate of Sudeley Castle in 1875.
But when historians found records of the discovery in the 1960s, there was no trace of the sculpture.
The Roman altar God has now been found in a basement cupboard during a clear out at the Gloucestershire castle.
The engraved figure, found earlier this month, wears a conical cap, tunic and cloak and holds a bow and arrow.
It has been identified by historians as Cotswold deity Apollo the Hound Prince or Apollo Cunomaglos.
Experts believe there are only seven other known depictions, four from the Cotswolds and three from London, and say the discovery is a significant find.
'Major significance'
The Reverend Dr Martin Henig is an archaeologist and historian who recorded the stone figure as 'lost' in his book on Roman sculpture.
He said: "The authentication of the subject as Apollo Cunomaglos with his bow and arrows is of major significance in furthering our understanding of Roman religion in western Britain."
The Castle, famous for being the place where Katherine Parr, Henry VIII's last wife, is buried, is now the private home of Lord and Lady Ashcombe.
Lady Ashcombe said: "Until now we had thought Henry VIII's last surviving wife was our most famous resident.
"It was a surprise to us all to discover the 'lost' Cotswold deity had been quietly sitting in a cupboard in Sudeley's archives all this time, patiently waiting to be found."
The artefact will be on display in a Roman themed exhibition at the castle from 17 March.