North Warehouse at Sharpness Docks no longer 'at risk'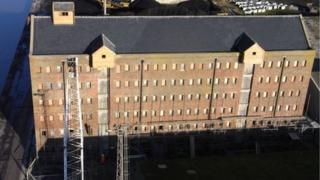 One of Gloucestershire's historic waterway buildings, which had been labelled "at risk", has been restored.
The Canal and River Trust has refurbished the Grade II-listed North Warehouse at Sharpness Dock over the last seven months.
The trust is now considering ways the building can be brought back into use.
The six-storey warehouse has been taken off Stroud District Council's At Risk register for the first time in 10 years.
A trust spokesman said the North Warehouse, unused for 30 years, was the only survivor of four large warehouses used to store imported grain when the docks opened in 1874.
'Weather-tight'
It became unsuitable for modern methods of handling and storing bulk goods, and the condition of the roof and parapet guttering had deteriorated considerably.
The trust has now refurbished the timber, re-slated the roof, repaired guttering and secured the windows against the weather.
David Viner, Canal and River Trust heritage advisor, said: "I'm delighted that we have finally been able to make this building weather-tight again and, most importantly, get it off the Heritage at Risk register.
"We'll definitely find a use for it, although it may take some time because of its location within a commercial dock area.
"In the 1970s, similar warehouses in Gloucester Docks were at risk of demolition because they were deemed redundant and useless.
"Fortunately it didn't happen and now restored and converted they are jewels in Gloucester's dockside regeneration."