Odeon Cheltenham shops and homes plan revealed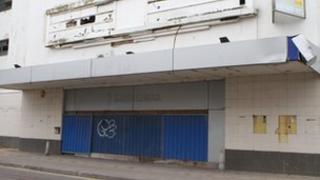 New plans to build shops and homes on the site of Cheltenham's derelict Odeon cinema have been published.
Previous plans have failed to come to fruition, but the latest £65m proposals for an area round North Place include a supermarket, homes and parking.
The developer also wants to build about 100 Regency-style homes on the former Haines and Strange motor dealer's site in Albion Street and Gloucester Place.
Outline planning applications will be submitted later this year.
'Not a good advertisement'
Jeremy Williamson, managing director of Cheltenham's Development Task Force, said: "This is a very welcome proposal for a blighted site.
"The sites are currently not a good advertisement for the town especially given their proximity to the High Street.
"It is extremely encouraging that the developer is proposing a comprehensive rather than piecemeal approach which would give the whole area a lift."
The Odeon was built in 1933 and closed in 2006, shortly after Cineworld opened in The Brewery.
Planning permission was granted for a nightclub and two restaurants in 2009 but the refurbishment did not take place.
Haines and Strange Vauxhall dealers left their premises in Albion St and Gloucester Place in 2008.
Cheltenham Borough Council approved proposals for 161 flats as well as shops, offices and restaurants on the plot.
However, permission expired last year with no work undertaken by the previous owners.