Gloucestershire incinerator: UBB 'minded' to appeal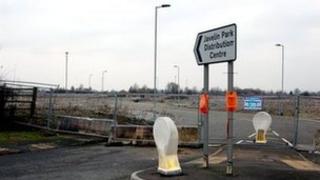 A company commissioned to build Gloucestershire's £500m incinerator has said it is "minded" to appeal against a rejection of planning permission.
At an 11-hour planning meeting on Thursday councillors voted unanimously to block plans for the proposed energy-from-waste plant at Javelin Park.
The county council has already signed a 25-year contract with Urbaser Balfour Beatty (UBB) to build the facility
A UBB statement said it was seeking further planning and legal advice.
The authority previously recommended that planning permission be granted.
Last September the contract was signed with UBB which had been chosen by the county council to build the plant.
'Remains contracted'
Its project director, Javier Peiro, said UBB was disappointed at the committee's decision on Thursday.
"Construction of the facility would create over 300 jobs and an operational facility would employ around 40 people," he said.
"Gloucestershire's businesses would benefit from the investment through supply chain opportunities and the ability to dispose of their waste locally in a more environmentally sustainable and cost effective way.
"UBB remains contracted to dispose of Gloucestershire's residual waste and in light of this decision we are considering our options," he added.
The proposed site of the plant is close to junction 12 of the M5.
'Penalty'
Cllr Stan Waddington, cabinet project champion for waste, added that UBB was considering a planning appeal which would bring the decision before an independent planning inspector.
He said that claims of a penalty clause existing in the contract were "simply untrue".
"We didn't sign a penalty clause. We signed a contract which agrees cost-sharing arrangements with the contractor."
Mr Waddington said that the cost to the council would depend on what the contractor had spent to date, and that was something he was unaware of at present.