Gloucestershire Police Federation calls for Taser training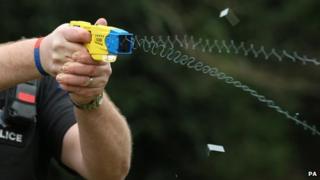 Every officer in the county should be trained to use and carry a Taser stun gun, according to The Police Federation in Gloucestershire.
At present fewer than 20% of officers in the force are authorised to use the "less-lethal" weapon.
Chair of the Gloucestershire branch, Tracy de Young, said members told her sometimes just "red-dotting" someone can help defuse the situation.
But opponents say negotiation or restraint should be used first.
Lawyer Sophie Khan, who has represented a number of people who have had Tasers used on them, said it is important to legally establish the "right or wrong" use of the weapon.
"If someone has a weapon or is being very threatening and there is no other way to control them... in that scenario within the guidance it does say you can use a Taser on that individual if they continue to act in an aggressive and violent way.
"Any other time I don't feel there's the need to use Taser - there's always negotiation or restraint," Ms Khan said.
'Less damage'
Tracy de Young said federation members were asking for extra protective equipment at a time when more officers were working on their own.
"When used properly, and following rigorous training, it's less likely to cause permanent damage than perhaps a baton strike or CS spray.
"Anything like that can bring a officer into court... officers would have to justify the use of a Taser just as they do with any force.
"Officers are telling me sometimes the pulling of a Taser and putting the red dot on someone is enough to deescalate what could be a very violent situation.
"They are all telling me they want the use of Taser and want the training," she said.