MoD confirms it will leave Ashchurch transport depot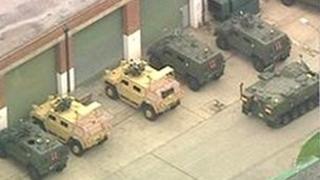 The Ministry of Defence (MoD) has confirmed it is to vacate a transport site in Gloucestershire.
Currently 90 members of the armed forces and a further 40 civilian members of staff are employed at the depot in Ashchurch.
The depot is used to store and manage many of the MoD's operational vehicles.
The MoD said the site the would need "extensive refurbishment" if it was to remain in operation and has identified "greater efficiency" in relocating.
In 2012 the ministry confirmed that an outline planning application was being drawn up for the 178-acre site.
A development proposal includes plans for 2,100 new homes, shops, a school, offices and open space.