Cheltenham traffic light switch-off 'may be permanent'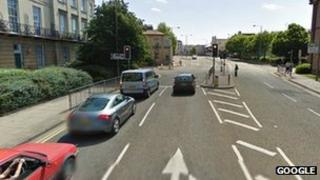 A set of traffic lights could be permanently switched off in Cheltenham following a successful trial, a local authority has said.
The St Margaret's Road lights were shut down for three weeks in November after congestion issues.
Cheltenham Borough Council said during the trial, traffic flowed more effectively and feedback from drivers was "extremely positive".
But, Gloucestershire County Council said there were safety concerns.
Chris Riley, the county council highways manager, said: "Pedestrians and cyclists experienced more difficulty in crossing the road and the safety of residents has to remain our biggest concern."
Cheltenham councillor, Andrew Lansley, who is leading the campaign to have the lights switched off for good said the lights caused "horrific congestion problems".
He said the town council will ask Gloucestershire County Highways to "vigorously explore" a permanent solution.