Forest of Dean wilderness site security costing thousands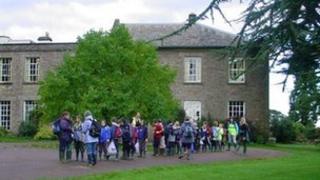 Some £3,000 is being spent every week on security to protect a disused education centre in the Forest of Dean.
Gloucestershire County Council, which shut the Wilderness Centre in 2011 to save money, said the risk of squatters had led to the "unavoidable" costs.
A community group has been in talks with the authority for more than a year about a bid to take over the site.
For generations the centre offered the chance to experience outdoor activities such as canoeing, climbing and caving.
A year ago, a dozen squatters were evicted from the site following a three-month protest against its closure.
Sally Morley, part of The Wilderness Project bid to reopen the centre, said the security costs were "unbelievable".
"They could have kept it open for that amount of money, which transpires to about £150,000 a year, instead of spending this money on security, and we could have continued that fantastic service for the whole of Gloucestershire that we were giving them before," she said.
'Significant investment'
In February the trust behind the takeover bid - the Friends of the Wilderness Centre - made a formal request to the county council to transfer the ownership of the centre over to the community under the provisions of the Localism Act 2012.
Discussions between the two parties continue.
A spokesman for the Conservative-led council, said: "We've worked hard to give the Friends of the Wilderness Centre the best chance of putting in a bid for the centre.
"That has taken longer than we would have liked, and, particularly following the illegal occupation of the site, that has led to unavoidable costs to make sure the site is secure.
"Significant investment is needed to take this project forward, so we promised to give the Friends the best chance possible to put a workable plan together - and that is what we will continue to do."