Cheltenham Borough Council apology after snow disrupts refuse collections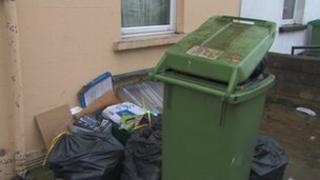 An inquiry has concluded "lessons should be learnt" after rubbish collections were disrupted by snow.
Cheltenham Borough Council received "significant numbers of complaints" about a decision to cancel collections in January, and later ordered a review.
Public anger was aimed at the authority for suspending collections mid-week as a partial thaw followed soon after.
The report states this decision was "inappropriate". The council has apologised for the disruption caused.
It says it is not a "blueprint" for the future, but it lays out "principles and reasonable expectations" for the next major weather event.
These expectations include collecting waste where safe to do so, better public communication and daily council meetings to discuss the changing situation during major weather events.
The report also highlights better use of collection sites and designated places for residents to drop-off bags of waste if the need arose.
On this occasion, the most significant reason given for the disruption was that it was the first major weather event since the introduction of alternate weekly refuse collections.
Councillor Roger Whyborn, cabinet member for sustainability, wrote the report and will present it at the council's next cabinet meeting on 16 April.