Protest over downgrading Cheltenham General Hospital A&E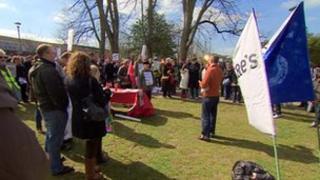 Campaigners have staged a protest against plans to reduce services at Cheltenham's Accident and Emergency department (A&E).
About 200 people demonstrated in the town over plans to reduce night cover at Cheltenham General Hospital's casualty unit.
A consultation is underway into how the A&E is staffed throughout the night.
The hospital's trust said the change was needed because of a lack of skilled emergency medical doctors.
Gloucestershire Hospitals NHS Foundation Trust is proposing specialist emergency doctors are moved to Gloucestershire Royal Hospital in Gloucester.
Emergency cases would be taken to Gloucester while specialist nurses - capable of treating the majority of walk-in patients - would staff an Emergency Care Centre at Cheltenham.
'Dangerously low level'
The trust said around 16 patients each night with critical illness or injury could be affected by the change.
Protesters against the move say it would reduce the county's A&E capacity to a dangerously low level.
Andrew Causon, from Cheltenham and Gloucester Against Cuts, said: "The College of Emergency Medicine warned that A&E doctors would have to double in number by 2012, they said that in 2008, and that's not been done.
"We don't understand why what should be a temporary shortage in A&E doctors should lead to a permanent downgrading of Cheltenham's A&E."
Alice Ross, another protester, said: "It seems terrible to me that after August we will probably have our fingers bandaged alright at night time but anything more serious and you'll have to be taken over by ambulance - at great expense I should think - to Gloucestershire Royal."
Cheltenham resident Eva Langrock-Bircher said: "I think it's important to keep an A&E close to people, especially in emergencies when time is of the essence and you don't want to travel long distances."
Robust medical cover
In a statement the trust said: "Our priority is to ensure that the sickest patients are seen by very skilled specialist staff when they need to be.
"The trust is facing increasing pressures as, nationally, recruitment into emergency medicine remains extremely challenging.
"By bringing together specialist emergency medicine staff at Gloucestershire Royal Hospital at night time, the trust will be able to ensure early senior assessment and decision making, which will benefit the sickest patients and there will be more robust senior medical cover, round the clock."