Gloucestershire peregrine falcon spotters praised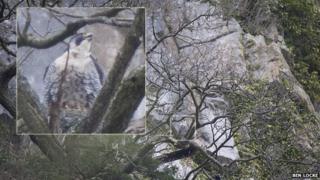 Members of the public have been praised for spotting a pair of peregrine falcons near the River Wye.
Gloucestershire Wildlife Trust believes the birds of prey, pinpointed at its Lancaut Nature Reserve on the River Wye near Chepstow, are nesting.
It said volunteers had increased its monitoring efforts by ten times and it would now seek climbing restrictions to keep the birds from being disturbed.
The trust said "not many" peregrine falcons breed in Gloucestershire.
Climbing restrictions
The Lancaut reserve is within the Lower Wye Gorge and is known to be rich in wildlife and plant species.
Kevin Caster, Forest of Dean reserves manager for the trust, said: "We have known peregrines nest in the area but never been quite sure where and if it's in our nature reserve before.
"But now we do, thanks to the local people who have committed their time to help us.
"The volunteers range from photographers to joggers and dog walkers who, through simple connection and common cause, have given us monitoring ten times the effectiveness that staff alone could provide."
The trust is working with the British Mountaineering Council to implement climbing restrictions nearby.