Forest of Dean GPs 'angry' over cross-border policy changes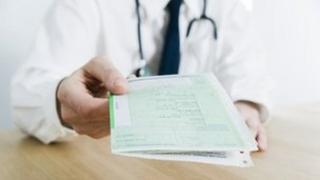 About 10% of doctors in the Forest of Dean are retiring early in protest over policy changes, a former GP has said.
Dr Peter Fellows said there was a lot of anger over Welsh government changes to stop its GPs referring patients to hospitals in England.
This affects patients at three Welsh-registered surgeries in the Forest.
The Aneurin Bevan Health Board said patient choice was an English NHS policy and not the basis of the health system in Wales.
It added that there were some exceptions to the rule.
Since September, new cross-border rules mean that patients of the Wye Valley Practice in St Briavels, Town Gate Practice in Sedbury and Vauxhall Practice in Tutshill - which are registered in Wales - have to be referred to hospitals in Wales.
'Patients outraged'
Previously the patient could choose whether to receive treatment at community hospitals in the Forest of Dean, or further away in Gloucester, Bristol or over the border in Wales.
A statement on the Wye Valley Practice website said its doctors were disappointed with the change and the health board's impact assessment had failed to recognise "the considerable anxiety, frustration, confusion and inconvenience" caused to its patients.
Pam Plummer, from the Action For Our Care campaign group, said many patients were outraged.
She added that in some cases the Welsh services were worse than those in England, but more generally the concerns surrounded patients facing longer waiting times in Wales, no continuity of care and issues with public transport across the border.
A statement from the Aneurin Bevan Health Board - which covers Blaenau Gwent, Caerphilly, Monmouthshire, Newport, Torfaen and South Powys - said requests for care outside its area, made through GPs or clinical teams, were considered on a case-by-case basis.
It said its policy only related to routine hospital treatment and included the following specified exceptions:
Where additional capacity is required (e.g. orthopaedics, ophthalmology and oral surgery), referrals for Monmouthshire-registered patients can continue to be made to Herefordshire and Gloucestershire
All existing treatment plans at hospitals outside Gwent will be honoured
Patients who need regular treatment but due to social or personal circumstances would suffer hardship if they attended a Gwent hospital
Emergency treatment at minor injury units or emergency admissions to hospital
Dr Fellow, who recently retired a year early from practice in Lydney, said the Welsh authorities were feeling the pinch and therefore trying to pull back some funding by restricting the ability to refer patients to English hospitals.
'No say whatsoever'
He said he retired early because he did not like what was happening with the health service more generally, and many senior GPs were doing the same.
Sharon Bagley, from St Briavels, said the new rules were not practical, not wanted, and she would join the fight to reverse them.
Another villager, Roxane Wagland, said: "It's a nightmare. We've always gone to Gloucester because it's easier for us to get to.
"My husband's ill and he likes to know exactly where he's going. Well he doesn't know Abergavenny and it just creates more trouble."
Conservative MP for the Forest of Dean Mark Harper is in the process of setting up a meeting in Parliament to discuss the issue with Health Secretary Jeremy Hunt.
He said: "My constituents live in England. They have no say whatsoever in the policies of the Welsh government and they want to be treated according to rules of the English health service."
The chairman of the British Medical Association's Welsh GPs committee, David Bailey, said a lot of practices along the border were not happy with the restrictions on where they can refer patients.