Fuller quarry deaths: Mother believed children had been killed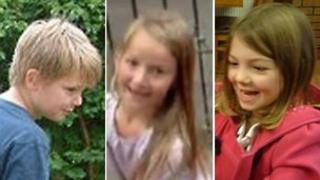 The mother of three children whose bodies were found alongside their father's has described how she "knew something horrible had happened", before she discovered they were dead.
Ceri Fuller, 35, his son Samuel, 12, and daughters Rebecca, eight, and Charlotte, seven, were found at Poles Coppice in Shropshire on 16 July.
An inquest into the deaths heard Mr Fuller was "jealous and possessive".
The children had been stabbed with 6.5in (17cm) a hunting knife.
Ruth Fuller, from Milkwall in Gloucestershire, was unable to attended the inquest at Wem Coroner's Court, but in a statement read to the court she detailed her relationship with her husband.
She described him as "jealous and possessive" and said he had been violent in the past.
She admitted she had developed a "crush" on her Open University lecturer, and she had been on the verge of breaking up with her husband.
Defensive wounds
After discussing the break-up Mr Fuller, a paper mill worker, went missing with the three children.
Mrs Fuller said in her statement that the last thing she could remember before they went missing was a car door slamming shut and that she "knew something horrible had happened".
The inquest heard that Mrs Fuller's behaviour at the time of their disappearance, had been erratic and she was admitted to hospital after attempting to stab herself with a kitchen knife.
On Wednesday Mrs Fuller's sister, Joanna Ballard, told the inquest that in the early hours of the next day Mrs Fuller stared into her eyes and told her: "I think that Ceri killed Rebecca."
The three children all suffered "large" wounds to the throat.
Samuel died from the effects of a single wound to his neck, while Rebecca had been stabbed five times in the chest, and her sister had suffered four chest wounds, the inquest was told.
Samuel and Rebecca also had cuts to their hands "consistent with defensive-type injuries".
Their father was found dead at the foot of a 60ft (18m) cliff at the quarry with a fractured skull and other injuries consistent with a fall from height.
A fingerprint matching Mr Fuller's was found on a bloodstained knife recovered at the disused quarry.