Fuller quarry deaths: Children 'unlawfully' killed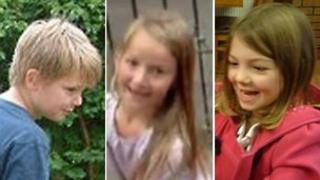 Three young children were unlawfully killed by their father who then jumped to his death, a coroner has ruled.
Ceri Fuller, 35, his son Samuel, 12, and daughters Rebecca, eight, and Charlotte, seven, were found at Poles Coppice in Shropshire on 16 July.
The children, from Milkwall in Gloucestershire, had been stabbed with a 6.5in (17cm) hunting knife.
Andrew Barkley, deputy coroner of Mid and Northwest Shropshire, said it had been a "scene of unimaginable horror".
He added that "overwhelming" evidence had driven him to the "inescapable conclusion" that Mr Fuller had acted alone in attacking his children at the disused quarry.
A two-day inquest at Wem Coroner's Court heard that the three children all suffered "large" wounds to the throat.
Samuel died from the effects of the single wound to his neck, Rebecca had been stabbed five times in the chest, and her sister had suffered four chest wounds.
A bloodstained hunting knife owned by Mr Fuller, and bearing his fingerprint, was found wedged into a mound of rocks near the bodies of his children.
'A great darkness'
Mr Fuller, who had a degree in molecular biology, was found dead at the foot of a 60ft (18m) cliff with a fractured skull and other injuries consistent with a fall from height.
The paper mill worker had driven the children away from their home on the morning of 12 July after agreeing to split up with his wife, Ruth, who he had been in a relationship with for 15 years.
Coroner Mr Barkley said it was clear there were "ups and downs" between the couple, but "nothing so remarkable as to give a clue as to what followed".
"What happened in the coppice that night might never be known," he said.
"A great darkness descended on the quarry. It was a scene of unimaginable horror, the sort of things nightmares are made of."
The inquest heard that the children's mother "knew something horrible had happened", before she discovered her children were dead.
Mrs Fuller was unable to attended the inquest, but in a statement read to the court she detailed her relationship with her husband.
'Behaving negatively'
She said that she believed he had killed their children in a "hateful, cruel and horrible" act, describing him as "jealous and possessive".
Mrs Fuller admitted she had developed a "crush" on her Open University lecturer, and had been on the verge of breaking up with Mr Fuller.
"We were both in a very strange mental state and had been for a while," she said.
"I told Ceri I might go away for a bit, although I did not know where to go."
After discussing the break-up on 11 July Mr Fuller was "behaving negatively" and had taken off his wedding ring and started to cry, Mrs Fuller said.
The next day she told her husband to "take the kids for a drive" while she tidied up the house.
The inquest heard that Mrs Fuller's behaviour the day before their disappearance had started to become very disturbed and irrational.
Her father, Ronald Tocknell said his daughter, who is still receiving psychiatric care, "was clearly having some kind of breakdown".
Hours after Mrs Fuller last saw her children she was admitted to hospital after attempting to stab herself with a kitchen knife.
On Wednesday Mrs Fuller's sister, Joanna Ballard, told the inquest that Mrs Fuller had stared into her eyes and told her: "I think that Ceri killed Rebecca."
The bodies of the Mr Fuller and his three children were found in the overgrown quarry on 16 July after a member of the public spotted the family's 4x4 parked in nearby woodland.