A&E unit at Cheltenham General Hospital to be downgraded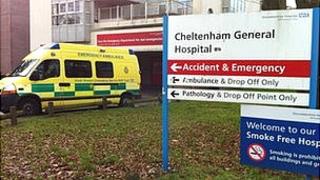 The accident and emergency (A&E) unit at Cheltenham General Hospital in Gloucestershire is to be downgraded.
From August all out-of-hours emergency "blue light" cases will be sent to the Gloucestershire Royal Hospital instead.
The hospital will continue to deal with "walk in" patients but anyone seriously ill or in an ambulance will go straight to Gloucester.
The changes were backed by the county's Health and Care Overview and Scrutiny Committee on Tuesday.
NHS Gloucestershire has estimated that 16 patients, on average, with critical illness or injury would be diverted from Cheltenham to Gloucester at night time.
It said with "lower demand" at night and medical staffing levels "difficult to deliver", bringing emergency staff together on one site would be "particularly beneficial".
'Robust medical cover'
Dr Tom Llewellyn, emergency medicine consultant, said the priority was to "ensure the sickest patients are seen by very skilled staff when they need to be".
"By bringing together specialist emergency medicine staff at night time, the trust will be able to ensure early senior assessment and decision making," he said.
"Which will benefit the sickest patients and there will be more robust senior medical cover, round the clock."
The emergency departments at Gloucestershire Royal and Cheltenham General Hospitals currently treat around 120,000 patients every year.