Greenbelt plan for 4,500 new homes in north west Cheltenham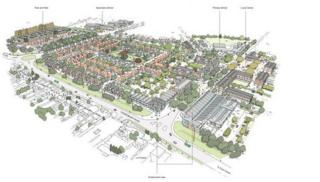 Plans have been revealed for up to 4,500 new homes on greenbelt land in north west Cheltenham.
The proposed Elms Park development would also see three new schools, a park-and-ride site and space for businesses.
It would be built on land to the north of Tewkesbury Road, between Swindon Village and Uckington.
A public consultation on the proposals is due to start at the end of the month.
The £1.75bn development is a joint venture between Bloor Homes and Persimmon Homes.
The consortium also plans community centres and outdoor leisure facilities.
Helen Wells, from local campaign group Save the Countryside, said: "This is still greenbelt land. It's agriculturally used today. There are not crops on it, there is livestock grazing on it.
"We will be discussing it in great detail to make sure there is a fair consultation because we are totally against this development."
The plans are going on display in the town from 26 June.