Cheltenham one-way system changes proposed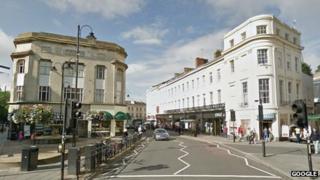 Parts of Cheltenham's one-way system could be restored to two-way traffic, under new proposals.
The plans also include restricting use of the road passing Boots corner to buses and bikes only.
The changes are aimed at making it easier for people to walk, cycle and use public transport in the town centre.
A two-month consultation into the Gloucestershire County Council plans will begin next month.
Under the plans, two-way traffic would be allowed in Imperial Square, Oriel Road and parts of Albion Street and Clarence Street, roads which are currently part of the one-way system.
'Blight in the centre'
Jeremy Williamson from the Cheltenham Development Task Force said the aim was to "link the whole town together".
"There have been a whole range of new developments... so we're ending up with a sort of blight in the centre and we don't seem to be able to sort it out yet.
"We're now looking for a two-month consultation to engage with everybody in Cheltenham to try to establish the best solution."
The project is part of Gloucestershire County Council's and Cheltenham Borough Council's transport plan for the town.
It would be funded through money already raised through government grants and the sale of council land.
A public consultation will run until 1 September.