Wildflower meadow planted in Stroud cemetery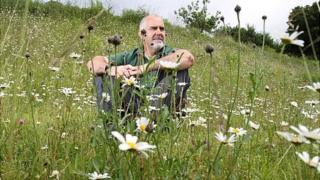 A wildflower meadow has been planted in a cemetery in Gloucestershire.
Stroud Cemetery is one of only three cemeteries in the country classified as a nature reserve, according to the town council.
The seasonal meadow was planted at the Horns Road cemetery, by volunteers from Stroud Valleys Project (SVP) to mark the charity's 25th anniversary.
Jim Mathison, from the council, said: "Nature reserves such as this are so vital in the centre of town."
The 6 acre (2.4 hectare) cemetery was developed more than 150 years ago after the town's overcrowded burial grounds became a health threat.
Owned by Stroud District Council, it is maintained by the town council with the old section of the site managed as both a cemetery and a local nature reserve.
'Bristol-sized meadow'
According to the town council, instead of "manicured lawns" and "potted plants" the grass is kept long whilst wildflowers such as oxeye daisies are allowed to grow and bloom.
"What we are aiming to create is a wonderful wildlife haven that can also be enjoyed by walkers," said Mr Mathison.
The cemetery's new wildflower meadow, planted with hedging and banks of cornflowers, is one of 25 being planted by SVP volunteers.
Clare Mahdiyone, from SVP, said more than 97% of the country's meadows had been lost since recording began.
"Now less than 15,000 acres of lowland meadow remain - roughly the size of Bristol," she said.
"So this is why SVP is launching a wildflower and meadow campaign to mark our 25th anniversary."