Gloucestershire magistrates' court sale 'blocked'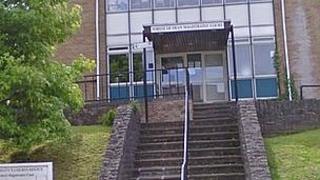 Plans to buy a magistrates' court in Gloucestershire are being blocked by the Ministry of Justice (MoJ), the county's crime commissioner has said.
Martin Surl wants to buy the freehold for Coleford Magistrates' Court, which closed in 2011, and set up a hub for police and criminal justice services.
But he claims the MoJ is "playing hardball" and says the price it is asking "does not match our valuation".
A spokesperson for the ministry said it "continues to be open to negotiations".
Mr Surl said it was important that law enforcement in the Forest of Dean had its own identity and developing a hub was "crucial to that".
'Community asset'
"My idea of a hub in the Forest hasn't changed and it's my assessment that Coleford is still the most appropriate location," he said.
"I thought the Ministry of Justice would be glad to sell the court but they're playing hardball."
With attempts to buy the building allegedly being "blocked" by the ministry, mayor Sue Merrikin said the town council would consider using the Localism Act.
She said: "We should register the court as a community asset, so that when or if the Ministry of Justice puts it up for sale, they would have to offer it to us first at the correct market value."
A spokesperson for Her Majesty's Courts and Tribunal Service said: "Mr Surl has already contacted us regarding the sale of Coleford Magistrates' Court and we continue to be open to negotiations."