King's Stanley school results 'discredit Ofsted report'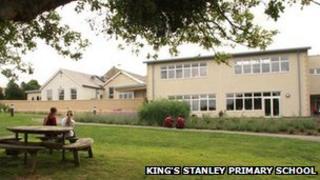 "Fantastic" test scores from a primary school in Gloucestershire completely discredit a critical Ofsted report, campaigners have said.
Results released this week show over 60% of year six pupils at King's Stanley Primary School achieved higher than the expected level.
The school was rated as inadequate by inspectors in May and placed in special measures, sparking outrage locally.
Ofsted said a monitoring inspection would take place in the autumn term.
School governor Dorothy Bolland said: "It is baffling to think how Ofsted could have come to such an inaccurate conclusion."
'Very good school'
Parents and governors at the school have claimed the latest inspection had a political agenda and was engineered to force the school into becoming an academy.
As a result, an action group has been set-up to campaign against the inspection results.
National curriculum Sats tests are taken in English and maths by children in year six - the final year of primary school.
The Save King's Stanley (SKS) action group said results across almost all the tested areas had improved year-on-year for three years, demonstrating that King's Stanley, near Stroud, had a very good primary school.
Three out of the 28 year six pupils had also scored in the top 1% in the country, the group said.
Mrs Bolland, the school's curriculum and standards governor, said: "These fantastic results completely discredit arguments in the school's latest Ofsted report that 'The school did not stretch the more able pupils sufficiently in order for them to achieve their best'."
Last week representatives of SKS met Stroud Conservative MP Neil Carmichael.
'Has improved'
"We want this report nullified, put aside, and the appeal dealt with fairly," said group chairman Alan Bladon.
"Once that is done we expect the school to be re-inspected.
"It is clearly a discredited report. King's Stanley Primary clearly does stretch its pupils, it clearly does achieve its results and it clearly has improved with results up from last year."
A spokesperson for Ofsted said: "As King's Stanley only had their report published on 4 July, it's likely that their first monitoring inspection will be in the autumn term.
"We couldn't predict the outcome of this or any other future inspection as Ofsted can only comment on the evidence we find."