Prince Charles congratulated during Kemble Station visit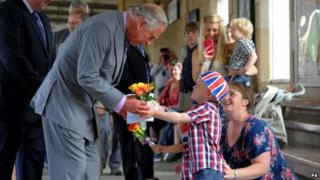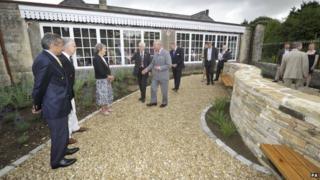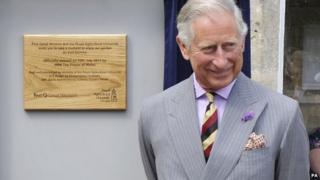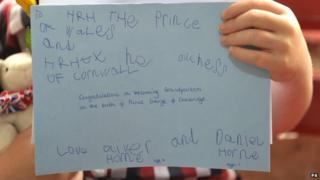 The Prince of Wales has visited a Gloucestershire railway station and received further congratulations on becoming a grandfather.
Prince Charles travelled to Kemble Railway Station, 10 miles (16km) from his Highgrove home, to officially open the once-derelict station garden.
There, he was shown how the station garden had been brought back to life.
The prince was presented with a card, flowers and soft toys as the small crowd passed on congratulations.
'Fantastic grandfather'
He told George Austin, 9, that it was a "great moment" when he met his grandson adding "it's fun to be a grandfather".
Sue Skinner, the grandmother of George, lives in Kemble and was visiting the station with her husband Peter and two grandchildren.
"I think he will make the most fantastic grandfather. He was brilliant with these two. Being a grandparent is very special," she said.
Brothers Oliver Horne, 4, and Daniel, 22 months, presented the prince with a card offering him congratulations on becoming a grandfather.
Their mother, Nicola Horne, 38, who lives in Cirencester, said she thought he was really touched.
"He asked Oliver 'Have you got a granny and grandad?' and Oliver told him he had", she said.
"It was great for the boys to meet him, they love the new baby and were so excited to see him on the television."
The Kemble garden, which includes a dry stone wall with built-in seating, was designed by local company Designspace Outdoors and worked on by staff and students from the Royal Agricultural University in Cirencester.
First Great Western undertook the work to improve the station and community environment.
During a short speech, the prince said he was "thrilled" to officially open the garden and paid tribute to Dawn Adams, a grandmother of 12, who has campaigned since 2001 to see the garden brought back to life.