Saltmarsh created near Lydney along the Severn Estuary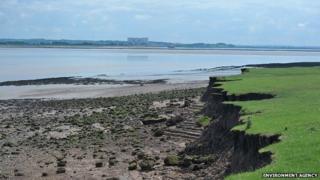 Work has started to create a saltmarsh in a £1m project along the upper Severn Estuary in Gloucestershire.
The Environment Agency and Natural England are creating the 96 acre (39 hectare) site near Lydney.
Brian Smith from the Environment Agency said: "Between now and 2030 we're at risk of losing 300 hectares of saltmarsh along the Severn Estuary.
"The embankments will be slowly broken up to allow the sea tides to flood in and help create the wet habitat."
He added: "The money goes on a number of areas - first on design and feasibility to ensure we will get the habitats that we will require.
"There's no point creating a wetland which is isn't particularly unique to the Severn Estuary - we need to be certain to get the right land in the right location to create those particular habitats."
The organisations involved also used the money to buy the land and carry out structural work, which involved breaking up the embankments and putting in drainage systems.
'Grazing land'
"It's not just about getting the floodwater on to the site, it's about getting it off again in the time cycle so that the unique grasses and plants that rely on that kind of environment have the opportunity to develop," added Mr Smith.
By the end of September, four sections of embankment will have been removed allowing the tides to flood in and out.
Mr Smith said: "We will have a site that by then will have been modified to accommodate the tidal floods but will have experienced three or floods so we can assess at a very early stage whether there is a need to carry out further works."
The land will be kept for grazing livestock in the summer months.
Tenant farmers will receive higher-level stewardship grants and will also receive support and advice from Natural England.
Surveys will be carried out to monitor nesting red shank numbers and plant species.
Lydney has separate flood defences so will not be affected by this work.