New fire control centre opens in Gloucestershire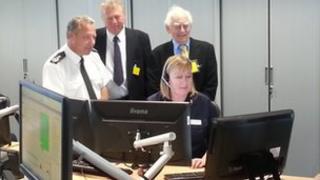 The fire service in Gloucestershire has opened a new control centre which it hopes will improve response times.
The room at the county's fire HQ in Gloucester includes a new mobilising system to reduce the time it takes to handle calls and for crews to respond.
Modern mapping and identification software will be used to pinpoint emergencies and scramble responses.
It is being funded via a £1.8m grant from the Department for Communities and Local Government.
Jon Hall of Gloucestershire Fire and Rescue Service said: "I'm delighted the new mobilising system is now up and running, giving crews an even better chance of reaching emergencies quickly and ensuring residents continue to have a service they can rely upon."